GM508 CultActive
GM508 CultActive is a bicarbonate-buffer­ed reagent designed to investigate oocytes of patients with failed fertilization after previous Intracytoplasmatic Sperm Injection cycles.
GM508 CultActive is designed to investigate if fertilization failure after previous ICSI-cycles is due to a deficient oocyte activation.
Rev03_00
| Product description | Product code | Unit |
| --- | --- | --- |
| CultActive | 4 GM 508CULT-active1 | 1 ml |
Product facts and notices
Composition:
NaCl, KCl, KH2PO4, MgSO4.7H2O, NaHCO3, CaCl2.2H2O, D(+)-Glucose anhydrous, Na-Lactate, Na-Pyruvate, EDTA, Alanyl-Glutamine, water, non-essential and essential Amino Acids, DMSO, Ca2+-Ionophore A23187.
Product specifications and quality control:
All raw materials are of highest available purity (European Pharmacopoeia and/or USP standard) if applicable.
A certificate of analysis is available for each batch upon request from our website with respective lot number.
The MSDS for GM508 CultActive is available upon request and can be downloaded from our website.
GM508 CultActive is manufactured and tested according to the following specifications:
| | |
| --- | --- |
| pH (at 37°C, 6 % CO2) | 7,00-7,60 |
| Osmolality (mOsm/kg) | 400-450 |
| Sterility | sterile – SAL 10-3 (Sterility Assurance Level) |
| Endotoxins (EU/ml) | < 0,25 |
| MEA (Blastocysts after 96 h in %) |  ≥ 80 |
Instructions for use:
GM508 CultActive must be shaken directly before use for approximately 30 sec.
GM508 CultActive must be equilibrated 4 hours in a vial not firmly closed at 5-7 % CO2 and 37°C prior to use.
Equilibrate culture medium for washing (e.g. GM501 Cult) for 4 hours in a vial not firmly closed at 5-7 % CO2 and 37°C prior to use.
Prepare for each oocyte 1 drop (30 µl) GM508 CultActive and 2 drops (30-50 µl) MOPS- and HEPES-free culture medium, (e.g. GM501 Cult). An oil overlay is not necessary due to the short exposure time.
Immediately after the ICSI procedure incubate the oocytes for 15 minutes in the pre-equilibrated Ca2+-Ionophore GM508 CultActive drops. -Step 1
Remove the oocytes from the GM508 CultActive drop and wash them twice in culture media. This has to be done in a HEPES-or MOPS-free medium, e.g. GM501 Cult. -Step 2 and 3
Put the oocytes in your culture media for further culture.
Assess the development on specific time points.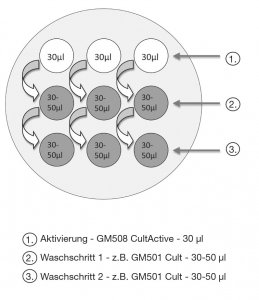 Precautions and warnings:
Handle all specimens as if capable of transmitting HIV or hepatitis. Always wear protective clothing when handling specimens.
Product does not contain any antibiotics. Always work under strict hygienic conditions (e.g. LAF-bench, ISO Class 5) to avoid possible contamination.
Only for the intended use.
Pre-use checks:
Do not use the product if bottle, seal of the container or package is opened or defective when the product is delivered.
Do not use the product if it becomes discoloured, cloudy or shows any evidence of microbial contamination.
Storage instructions and stability:
Shelf life is 6 months from time of manufacture.
Store between 2-8 °C.
Do not freeze before use.
Keep away from (sun)light.
The product can be used safely up to 7 days after opening, when sterile conditions are maintained and the products are stored at 2-8°C.
Do not use after expiry date.