Oosafe® Air Quality Control System for IVF Laboratories
Produktdaten und Hinweise
Air Quality Control System is composed of the following:
Oosafe® Analyzer with WolfSense Software
Brain of the Air Quality Control System which collects and analyzes all data from different probes in real-time.
Up to two Oosafe® Probes and one Graywolf Particle Counter can be connected and data logged simultaneously.
Oosafe® VOC-Log for IVF
Real-Time parts per billion (ppb) VOC measurement which is necessary for IVF Laboratories.
TOTAL VOCs, % RH, F

° / C

° measurements are standard and optionally up to 3 gas sensors (O2, CO, O3, NH3, etc.) can be added to the probe.
Oosafe® Air Speed / Temperature / Volume Air Flow Probe for IVF
Air speed and volume in front of the HEPA filters in HVAC systems and IVF Workstations are very critical parameters showing the efficiency of HEPA filters. Filter replacement or system maintenance can be decided after measuring these parameters.
Patented 90

° articulating probe design allows each reach to the ceiling diffusers / filters while eliminating internal cabling and cable kinking.
GrayWolf 6 Channel Handheld Particle Counter
In order to define Clean Room standard of the IVF laboratories, calibrated 6 channel particle counter is mandatory. It is also used to check the efficiency of the filters inside the laboratories and IVF workstations so that filter replacement time is decided.
Color touch screen 6 channel particle counter (0.3, 0.5, 1.0, 2.5, 5.0 and 10 μm) which has interface to Oosafe® Analyzer with WolfSense Software for enhanced data logging and expanded features. It can also be used as a stand-alone unit.
up to 2 Oosafe® probes and one GrayWolf Particle Counter can be connected and data-logged simultaneously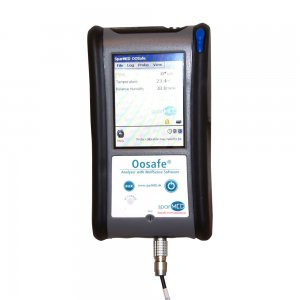 requires Oosafe® Analyser or Windows 8 Tablet/Laptop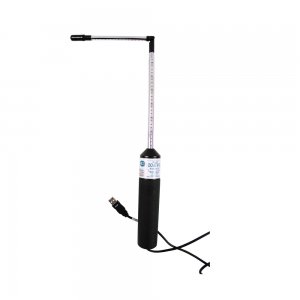 color touch-screen, 6 channels (0.3, 0.5, 1.0, 2.5, 5.0 and 10 μm) and mass concentration.
isokinetic sampling probe, zeroing filter, data transfer, connection set and analysing software are included.
connection set to Oosafe® Analyser/Tablet is included so all the Particle Counter's measurements can be seen, datalogged and saved on Oosafe® Analyser/Tablet together with other measured parameters (like VOCs, Air Speed, etc).
Particle Counter can be used as a stand-alone unit (does not require any Oosafe® Analyser/Tablet). If you don't want to connect the Particle Counter, you do not need to order the Connection Set for Oosafe® Analyser/Tablet.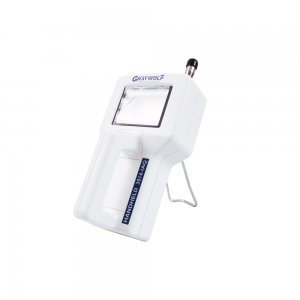 8.0 '' Tablet with Windows 8 or 8.1, 32 GB internal flash storage, with USB and Micro USB connection to use the tablet continuously while charging, 11+ hours typical battery life.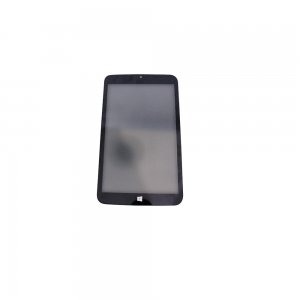 needed for VOC Calibration with Calibration Gas.
CALIBRATION GAS MUST BE FOUND LOCALLY! PLEASE ASK US SPECIFICATIONS AND MSDS REPORT FOR THE CALIBRATION GAS!

ZERO AIR ( Low Level ) and HIGH LEVEL VOC (7.500 – 10.000 ppb)isobutylene reference gas cylinders and a gas regulator to be connected to the Calibration Hood is necessary for precise calibration for VOCs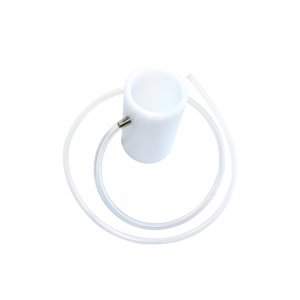 comprised of a glass jar containing Sodium Chloride (NaCl), a glass
jar containing Potassium Acetate (KC2H3O2), a bottle containing
distilled water, a syringe and a probe adapter