About us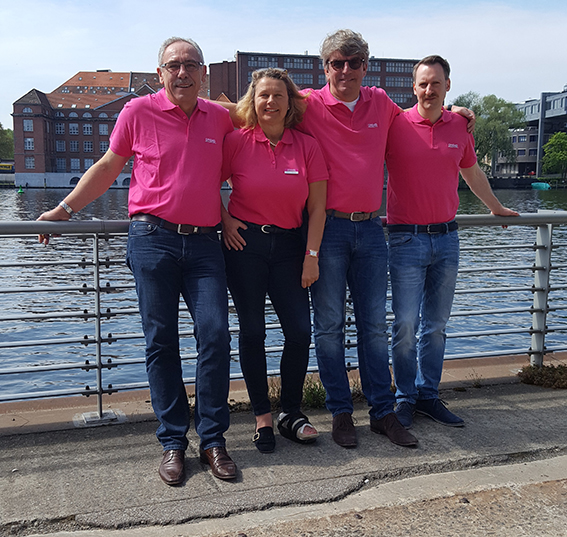 Image: Heinrich Koch, Susanne Waechter, Dr. Fabian Sell, Dr. Mirko Hoffmann
Since the foundation in 1998 Gynemed addresses themselves to the distribution of high-class medical products in the field of reproductive medicine. In Germany as well as abroad we can look back on a successful development of our business in these fields.
In our assortment you will only find products meeting the highest standards and demands of quality, representing the latest state of scientific development. For meeting these requirements we are initiating clinical studies on our own behalf.
It is at all times our ambition to adept our range of products to current trends and advancements. That ambition made us develop our own IVF-media line (culture media for oocyte retrieval, embryo culture and sperm processing), which is adapted to the latest scientific cognitions. This media line is available since May 2006 and already established as the standard in many laboratories in Europe as well as throughout the whole world.
Starting 2011 and finishing 2012 these media got their CE marking – thus Gynemed is one of the few companies meeting these high quality standards and regulatory demands.
Since January 2006 we are offering high-class laboratory devices by renowned brands like IVF-Tech (Denmark), Hamilton Thorne (USA) and Astec (Japan) as their exclusive distributor including service and maintenance. Cooperating with further specialized companies and with our own developments as e.g. our high-end anti-vibration-table we are capable of equipping and installing complete IVF-laboratories. Furthermore we at all times adopt suggestions from operators and develop customer-specific products in cooperation with biologists, doctors and laboratory personnel.
Customer intimacy is our highest priority. Besides the competent consulting and the optimized service by our personnel our customers particularly appreciate the intensive, trustful care and our support far in excess of the usual.
This is what we vouch for with our names:
Dr. Fabian Sell (+49-172-6602798, CEO; specialised in Export)
Dr. Julia Heinzmann (+49-170-5500193, CEO; specialised in Germany, Austria, Switzerland)
Heinrich Koch (+49-172-6602799, specialised in technique Germany, Austria, Switzerland)
Dr. Mirko Hoffmann (+49-177-8105979, specialised in technique international)
By daily contact to customers and users we know what you are putting your emphasis on.